Upruc Pol, engineers and produces polyester tanks armed with glass fibers based on the needs of our customers. This way our clients enjoy the services of our engineers in order to find together the best possible solution and design for each tank. No matter the requirements for the project, our creativity and experience in engineering storage tanks will satisfy them.
Polyester tanks armed with glass fiber are durable and efficiend, they are resistant to corosion and din poliesteri armati cu fibra de sticla sunt durabile si eficiente ele fiind rezistente la coroziuni si bad wether, have high mechanical and chimical resistances and are guaranteed to be impervious.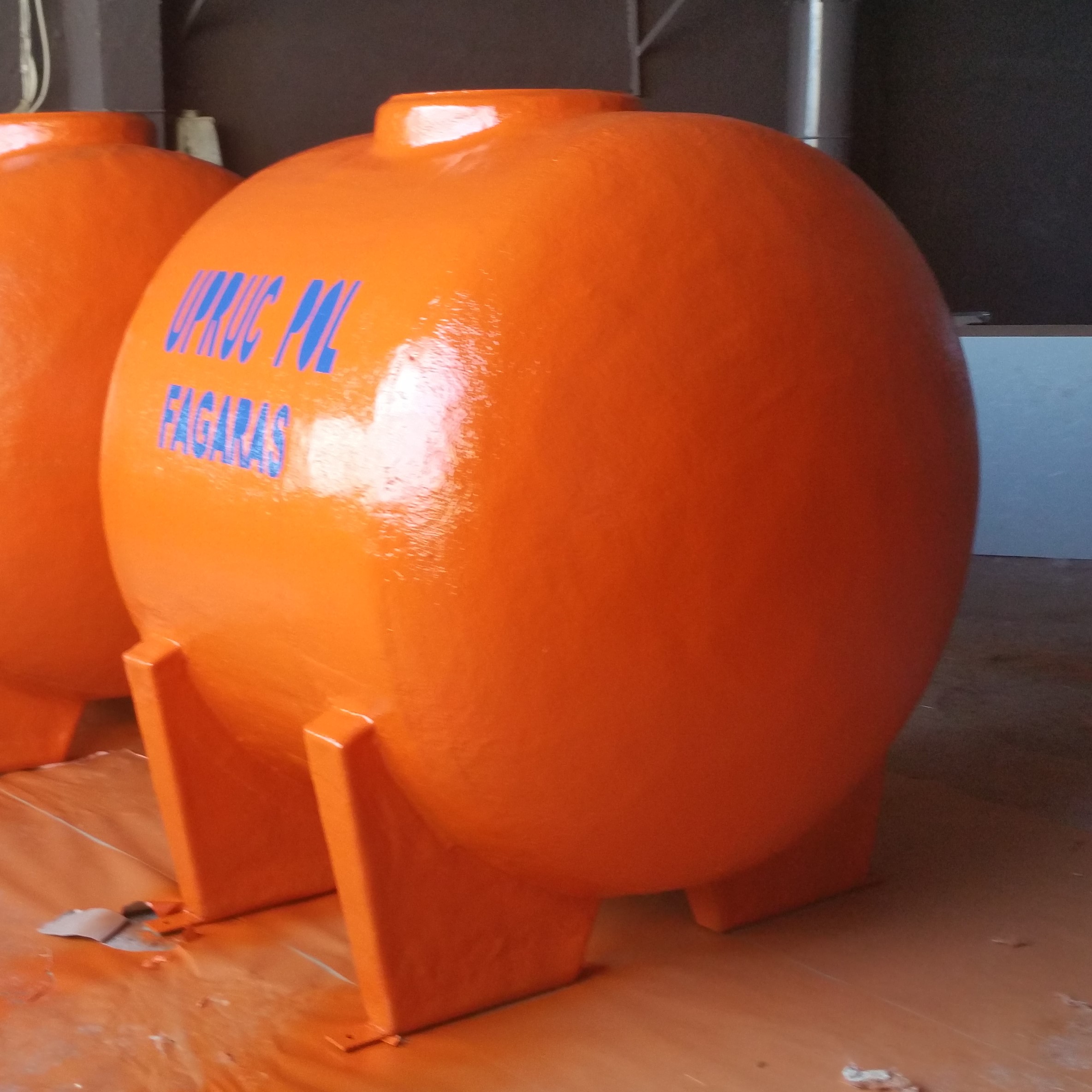 All these qualities make the tanks usable in a wide variety of industries from across the world, for example they can be used as water tanks, storage tanks, petro-chimical tanks, storing products from the food industry, tanks used in the agricultural industry and many more.
The tanks are placed on structure supports that assure their stability and durability.
Because of the shape these tanks can take they come in three different series.
Series "H" – tank with a circular cross section
Series "P" – tank witha a parallelepiped cross section
Series "E" – tank with a elipsoidal cross section
Series H
SERIES
Capacity*
D
L
H
Number of supports
litres
mm
mm
mm
40H
50
400
480
510
2
100
940
2
200
1650
3
60H
200
600
780
830
2
300
1125
400
1440
500
1770
80H
500
800
1140
1000
2
600
1340
2
800
1738
2
1000
2136
3
1200
2534
3
100H
800
1000
1200
1250
2
1000
1450
2
1200
1710
2
1500
2090
2
2000
2730
2
2500
3360
3
140H
2000
1400
1540
1740
2
3000
2190
2
4000
2840
3
5000
3490
3
160H
4000
1600
2270
1890
2
5000
2770
2
6000
3270
3
8000
4270
3
10000
5270
3
225H
10000
2250
2900
2565
2
15000
4150
2
20000
5410
2
25000
6670
3
30000
7920
3
300H
25000
3000
4050
3300
2
30000
4760
2
40000
6180
3
50000
7600
3
60000
9010
4
80000
11840
4
Series P
SERIES
Capacity*
A
L
H
Number of supports
litres
mm
mm
mm
123 P
2000
1230
1680
1430
2
2500
2090
2
3000
2480
2
3500
2870
2
Series E
SERIES
Capacity*
A
L
H
Number of supports
litres
mm
mm
mm
145 E
6000
2120
2740
1700
3
7000
3155
3
8000
3570
4
10000
4400
5
12000
5230
6
15000
6475
6
18000
7720
8